People Helping People… Project Concern of Cudahy & St. Francis
Project Concern's Mission: To serve low-income individuals and families by feeding the needy, meeting emergency basic needs and providing a bridge/safety net to help them become self-sufficient.
Located:
Plankinton & Kirkwood Ave.
(Lower Level of the Nativity of the Lord Parish)
Cudahy, WI
Mailing Address:
Project Concern
PO Box 100093
Cudahy, WI 53110
Telephone:
(414) 744-0645
Fax:
(414) 744-0645
E-Mail:
info@projectconcerncudahy.org
Click Here for a map
---
Food Pantry Hours
Monday:
9:00AM to Noon
3:00PM to 6:00PM
Wednesday & Friday:
9:00AM to Noon
*1st Saturday of each month:
9:00AM to 11:00AM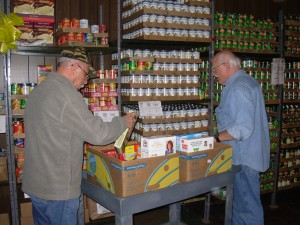 ---
PANTRY CLOSED DATES 2020
Project Concern will be CLOSED on these dates:
New Years' Wednesday January 1st
Cleaning Day Friday January 31st
Cleaning Day Friday February 28th
Cleaning Day Friday March 27th
Easter Friday April 10th
Memorial Day Friday May 22nd
Memorial Day Monday May 25th
Cleaning Day Friday June 26th
Independence Day Friday July 3rd
Independence Day Saturday July 4th
Cleaning Day Friday August 7th
Labor Day Monday September 7th
Halloween Friday October 30th
Thanksgiving Friday November 27th
Christmas Friday December 25th
New Years' Friday January 1st 2021
---

Project Concern's main supplier of food is Hunger Task Force, a free and local provider of food to food pantries and meal programs. Hunger Task Force believes that every person has a right to adequate food obtained with dignity. Hunger Task Force works to prevent hunger and malnutrition by providing food to people in need today and by promoting social policies to achieve a hunger free community tomorrow.
---
If you wish to file a Civil Rights Program complaint of discrimination, complete the USDA Program Discrimination Compliant Form found online at http://www.ascr.usda.gov/complaint_filing_cust.html, or at any USDA office, or call (866) 632-9992 to request the form. You may also write a letter containing all of the information requested in the form. Send your completed complaint form or letter to us by mail:
Project Concern of Cudahy-St. Francis Inc. is an equal opportunity provider and employer. We do not discriminate against customers, employees, and applicants for employment on the bases of race, color, national origin, age, disability, sex, gender identity, religion, reprisal, and where applicable, political beliefs, marital status, familial or parental status, sexual orientation, or all or part of an individual's income is derived from any public assistance program, or protected genetic information in employment or in any program or activity conducted or funded by the Department. (Not all prohibited bases will apply to all programs and/or employment activities).
U.S. Department of Agriculture
Director, Office of Adjudication
1400 Independence Avenue, S.W.
Washington D.C., 20250-9410
202-690-7442 (Fax) or email at program.intake@usda.gov.
Individuals who are deaf, hard of hearing or have speech disabilities may contact USDA through the Federal Relay Service at 800-877-8339 or 800-845-6136 (Spanish)
For any other information dealing with Supplemental Nutrition Assistance Program (SNAP) issues, persons should either contact the USDA SNAP Hotline Number at 800-221-5689, which is also in Spanish, or call the State Information/Hotline Numbers (click the link for a listing of hotline numbers by State) found online at http://www.fns.usda.gov/snap/contact_info/hotlines.htm
USDA is an equal opportunity provider and employer.