Project Concern of Cudahy-St. Francis Nutrition Policy
Safe & Healthy Food Pantry was adopted by Project Concern of Cudahy-St. Francis November of 2016. The program is a teaching model that improves the health of people who rely on our food pantry to meet their basic needs. MyPlate encourages healthy eating.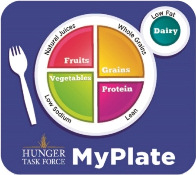 Project Concern MyPlate
MyPlate includes foods from the five food groups: Protein, Fruits, Vegetables, Grains and Dairy. Safe & Healthy Food Pantry is committed to the health and well being of people served by our food pantry and encourages contributions of preferred food items that are low in fat, sodium and added sugar and foods that contain whole grains.
Donations of Preferred Food Items include:
FRUITS
Fruits canned in own juice or 100% fruit juice
PEACHES
PEARS
PINEAPPLE
100% FRUIT JUICE
VEGETABLES
Low sodium, canned vegetables
GREEN BEANS
CORN
TOMATOES
SPAGHETTI SAUCE
GRAINS
Whole grain foods
BROWN RICE
OATMEAL
CEREAL
(NO SUGAR ADDED)
PASTA
(MULTIGRAIN)
DAIRY
Boxed, low fat milk or milk alternatives
SKIM MILK
1% MILK
ALMOND MILK
SOY MILK
PROTEIN
Lean sources of animal and plant based proteins
CHICKEN, CANNED
TUNA, CANNED
PEANUT BUTTER
BEANS
(DRIED OR CANNED)
SNACKS
Healthy foods for on-the-go
GRANOLA
NUTS & SEEDS
BREAKFAST BARS
GRAHAM
CRACKERS
CONDIMENTS
Healthy & salt-free flavors
SALSA
OIL
MUSTARD
SALT-FREE
SEASONINGS
Project Concern Safe & Healthy Food Pantry agrees to:
Provide MyPlate nutrition education information
During the pantry interview, households will receive information about MyPlate and make educated selections from all five food groups. Client choice opportunities will support special dietary, cultural and religious needs, as well as personal preference. As Hunger Task Force supports this pantry, Project Concern's Safe & Healthy Food Pantry in return agrees to adhere to Hunger Task Force MyPlate guidelines for packing a bag of food.
Adopt Intentional procurement strategies
Safe & Healthy Food Pantry will purchase lean meats, low fat dairy, low sodium vegetables, fruit packed in its own juice and whole grain foods. Safe & Healthy Food Pantry will actively seek donations of fresh produce.
Limit distribution of certain foods
Safe & Healthy Food Pantry will limit the distribution of highly processed foods, including foods made with refined grains, saturated fats, trans fats, added sugar and sodium. Project Concern will not make as part of a family's food allotment improperly labeled, damaged or expired foods. Foods not fit for human consumption will be composted whenever possible.